Systematic Review of Decision-Making Tools, Alternatives and Criteria in Urban Solid Waste Management
Augusto D. Alvarenga

Aline A. S. Pereira

Eduardo G. Salgado
Abstract
This scientific article provides a comprehensive review of the main tools and criteria employed in Municipal Solid Waste Management (MSWM) for achieving sustainable waste management. The objective of this study was to evaluate the most effective technology or combination of technologies for treating urban solid waste, along with the most used methodology for selecting such technologies. To achieve this, we conducted a systematic review of the literature, carefully selected relevant articles, and compiled data from various criteria studied to facilitate a comprehensive discussion and evaluation of the findings. The article evaluates the main tools and their combinations used in aiding decision-making in MSWM, in accordance with the objectives of the decision. The benefits of integrated waste management are highlighted, along with the challenges associated with its implementation. These challenges are inherent in each situation and must be evaluated individually, based on their characteristics. Optimizing sustainability criteria in MSWM can be achieved by searching for a technology implementation sequence. The article also synthesizes the frequency of each MSWM technology, such as landfill, incineration, anaerobic digestion, composting, gasification, pyrolysis, and recycling, being selected in decision-making in the literature. Furthermore, an analysis of the environmental, economic, social, technical, political, and administrative criteria and their sub-criteria in MSWM is carried out. It has been observed that Analytic Hierarchy Process and Life Cycle Assessment are the primary tools involved in multicriteria decision-making for Municipal Solid Waste Management (MSWM). Moreover, these tools demonstrate ease of integration with other methods, showcasing their flexibility and comprehensiveness. While the combination of MSWM technologies is a common goal in the studies examined, integrating a larger number of technologies poses challenges. Finally, the most frequently studied criteria in MSWM, in descending order of frequency, are environmental, economic, social, technical, and political/legislative/administrative aspects. Therefore, it is crucial to explore the less frequently studied criteria to overcome barriers and establish a more sustainable management approach for urban solid waste. In conclusion, the article suggests future work, including the development of a model that assists in the technology implementation sequence and assessing the feasibility of integrating the largest number of MSWM technologies. Although gaps exist in the literature on MSW issues and potential solutions, this review provides valuable information for decision-makers in MSW planning and in the search for scenarios that demonstrate superior performance.
This work is licensed under a
Creative Commons Attribution 4.0 License
.
Journal Metrics
Google-based Impact Factor (2023): 0.81
h-index(2023): 152
i10-index(2023): 1168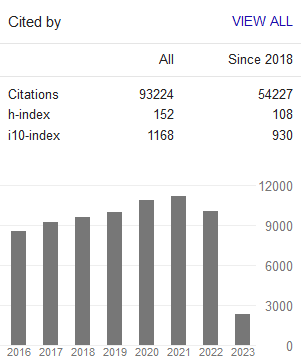 Contact
Stephen LeeEditorial Assistant