Author Guide
---
---
---
General Information
- Paper Submission Guide: MS-Word or PDF
- Paper Template: MS-Word
- Competing Interests Statement: MS-Word
- Application Form for Free Print Journals: MS-Word (Authors only)
Submission Preparation
As part of the submission process, authors are required to check off their submission's compliance with all of the following items, and submissions may be returned to authors that do not adhere to these guidelines.
- Please read the Author Guide before you submit a manuscript.
- The submission has not been previously published, nor is it before another journal for consideration (or an explanation has been provided in Comments to the Editor).
- The submission file is in Microsoft Word or PDF file format.
- The text adheres to the stylistic and bibliographic requirements outlined in the Author Guide.
- Add DOIs and persistent links to those references that have DOIs, please see the Author Guide.
-All authors of Global Journal of Health Science are requested to disclose any actual or potential conflict of interest along with the paper, including financial, professional, personal or other relationships with other people or organizations. Download Competing Interests Statement
- If the paper is accepted for publication, you will be asked to pay an Article Processing Charge (Formatting and Hosting).
Manuscript Selection
The Canadian Center of Science and Education (CCSE) has developed a manuscript-selection system called the Star System for Journal Quality.
Step 1: Basic Check
The editor or editorial assistant checks a received manuscript to determine whether it fits the journal's aim and scope. Manuscripts out of the journal's scope are rejected. Articles published fully or partly in other publications/websites are not reviewed or accepted.
Step 2: Similarity Check
Please be aware that we check all submitted manuscripts for plagiarism. We use CrossCheck (powered by iThenticate, the leading plagiarism-detection system) to check for similarity to previously published documents. All manuscripts containing plagiarism, including self-plagiarism, and dishonesty are rejected.
Step 3: Peer Review
We use a double-blind system for peer review; both reviewers' and authors' identities remain anonymous. The submitted manuscript will be reviewed by at least two experts: one editorial staff member as well as one to three external reviewers. The review process may take four to ten weeks. In some rare cases, according to the recommendations from editors and reviewers, a second round of peer review may be initiated. Please see a sample of Result of Review.
Step 4: Acceptance/Rejection Decision
The decision to accept an article is based on the average score given by reviewers. The reviewers grade a submitted manuscript on a scale of 1 to 5. To be accepted for publication, the manuscript must obtain an average score not less than 2.5 (some journals require a higher score). However, we may reject a manuscript with a score higher than 2.5 when an editor or reviewer thinks it is not suitable for publication.
Journal Publishing Workflow
Please see the workflow for the article publication: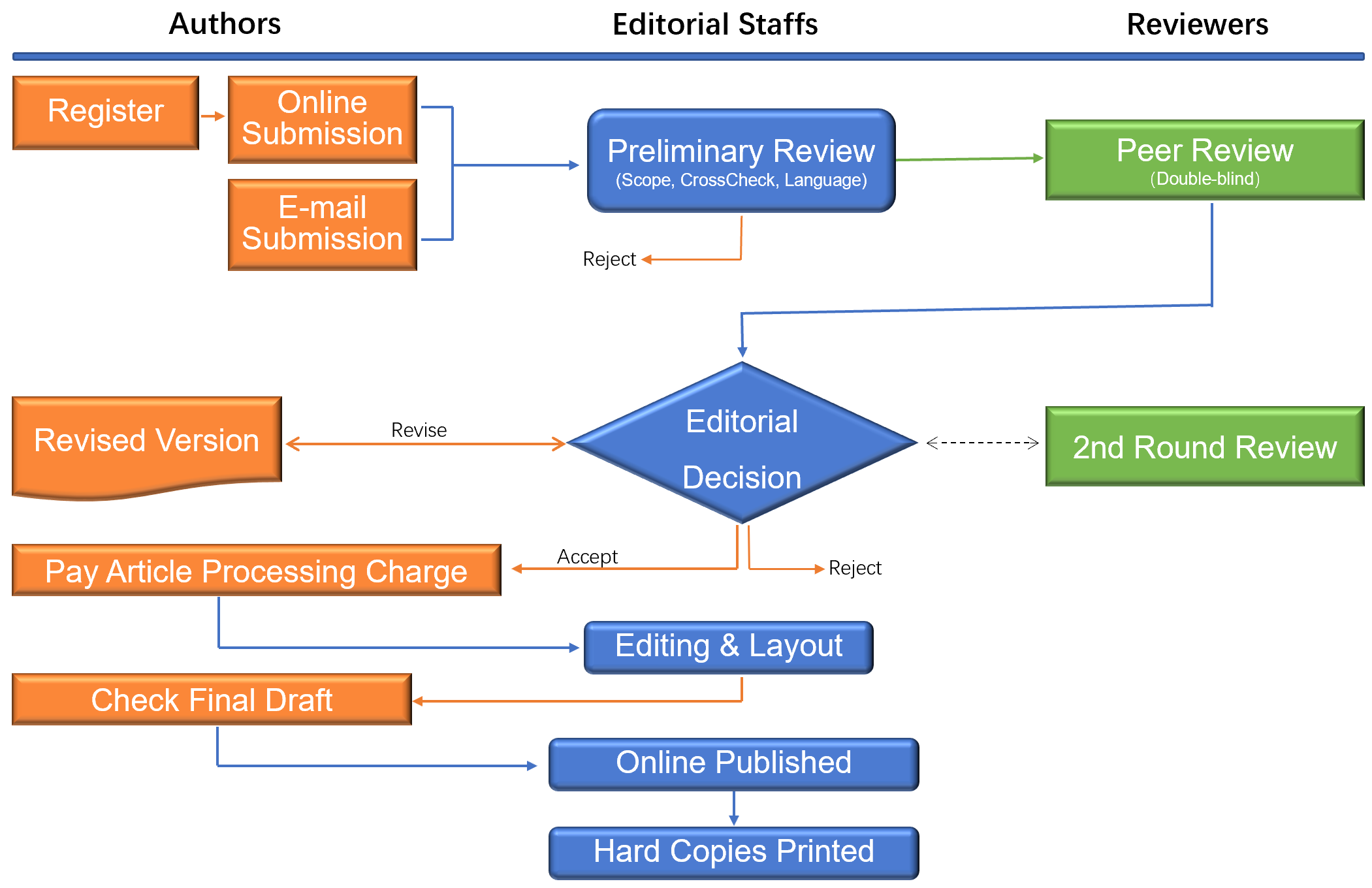 Authorship, Misconduct and Ethical Issues
We follow the Committee on Publication Ethics (COPE)'s Core Practices and its advices. It covers: authorship, conflict of interest, data, ethical problems, peer review, plagiarism, redundant (duplicate) publication, and whistleblowing.
Retraction
We follow the Committee on Publication Ethics (COPE)'s Retraction Guidelines.
Article Processing Charge & Discount Policy
Global Journal of Health Science: 600.00 (USD)/article
If the paper is accepted for publication, you will be asked to pay an Article Processing Charge (Formatting and Hosting).
We will provide a discount of Article Processing Charge (Formatting and Hosting) for author/s from low-income or lower-middle-income countries. (Please refer to the full list of qualifying countries–World Bank).
Discount Policy: 200USD OFF (The Article Processing Charge is 400 USD/article after discount.)
Qualification: At least one author from the low-income or a lower-middle-income country
How to apply: Please send your request to gjhs@ccsenet.org, indicating your article title, author names and countries. A decision on the reduction will normally be made within three working days. Any changes to authors' information will not be acceptable once the discount is granted.
Copyrights Notice
Copyrights for articles published in this journal are retained by the authors, with first publication rights granted to the journal. The journal/publisher is not responsible for subsequent uses of the work. It is the author's responsibility to bring an infringement action if so desired by the author.
Journal Metrics
(The data was calculated based on Google Scholar Citations)
Google-based Impact Factor (2021): 0.50
ih-index (December 2021): 59
i10-index (December 2021): 290
RG Journal impact: 1.26
Contact
Erica GreyEditorial Assistant