Potential of Spring Barley, Oat and Triticale Intercrops with Field Peas for Forage Production, Nutrition Quality and Beef Cattle Diet
Kabal S. Gill

Akim T. Omokanye
Abstract
Spring barley (Hordeum vulgare L.), oat (Avena sativa L.) and triticale (x Triticosecale Wittmack) monocrops and their intercrops with two forage varieties (40-10 and Tucker) and one seed variety (Cooper) peas (Pisum sativum L.) were evaluated for forage production, nutrition quality and suitability in the beef cattle diet. Pea + cereal intercrops were compared to respective cereal monocrops in 2009, 2010 and 2011. Plant height of cereals tended to be reduced in intercrops compared to respective monocrops. Taller 40-10 forage type pea tended to cause lodging in 2009 and 2011, not observed with other pea varieties. Fresh forage of pea + cereal intercrops had higher moisture than respective cereal monocrops. Fourteen of the 18 intercrops had less dry matter yield (DMY) than respective cereal monocrops. Shorter Tucker pea had less negative impact on DMY than taller 40-10 pea. Treatments with barley had lower DMY than respective oat and triticale systems. Intercrops improved forage crude protein (CP) content over the respective monocrops, which was enough to overcome the DMY penalty and produce more CP yield than their monocrops. The forage Ca and Mg contents were improved by intercrops over their monocrops, and they were greater with 40-10 pea than other pea varieties and with barley than oat or triticale. The forage P content also tended to be higher in intercrops than corresponding monocrops, without a consistent effect of cereal type or pea variety. The forage K and S contents were not consistently influenced by the cereal types, pea varieties or intercrops. Forage Na content was greater from oat than respective barley and triticale treatments. The monocrops and intercrops had similar forage Cu content, and treatments with barley had more Cu than with oat or triticale. Forage Zn content tended to be intercrops > monocrops; and barley > triticale > oat. Treatments had no influence on the forage Fe and Mn contents. Levels of acid (ADF) and neutral (NDF) detergent fibres in the forage were similar for the corresponding intercrops and monocrops, and greater for oat than barley or triticale treatments. Some of the intercrops improved total digestible nutrients (TDN) content in forage over their monocrops. Monocrop of oat had less TDN than barley or triticale. Drought reduced the ADF, NDF and TDN contents. The forage NEL, NEM and NEG as well as RFV and NFC showed similar trend as the TDN. Overall, the tested pea + cereal intercrops did not increase DMY over the respective monocrops, but they indicated several nutritional quality benefits. These improvements present opportunities to substitute some grain or supplements in the beef cattle diet with better quality forage by intercrops.
This work is licensed under a
Creative Commons Attribution 4.0 License
.
Journal Metrics
The data was calculated based on Google Scholar Citations.
h-index (August 2022): 67
i10-index (August 2022): 839
h5-index (August 2022): 20
h5-median (August 2022): 28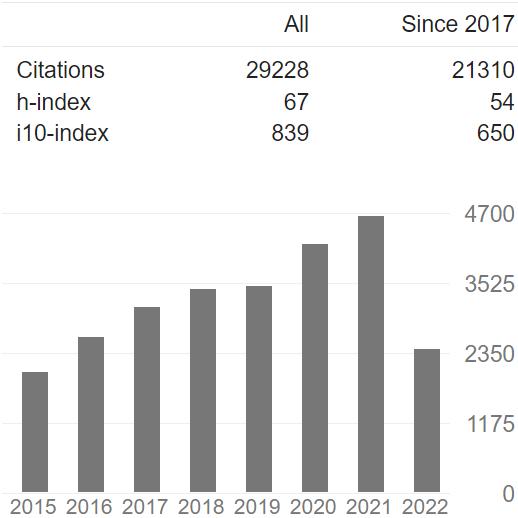 Contact
Anne BrownEditorial Assistant