Spring Triticale Varieties Forage Yield, Nutrients Composition and Suitability for Beef Cattle Production
Abstract
The objective was to explore the potentials of five spring triticale (xTriticosecale Wittmack) varieties (AC Ultima, Bunker, Companion, Pronghorn, Taza and Tyndal) for integration into beef cattle feeding systems in the north western Alberta, Canada. This was carried out over four growing seasons (2009 to 2012) at different sites, using RCBD in each year. The crop was cut at late milk stage to determine the silage (SY), dry matter (DMY) and protein (CPY) yields, and nutrition quality. The mean DMY was similar (P > 0.05) for all varieties, ranging from 8.14 to 8.53 t ha-1. The forage DM was higher (P < 0.05) in 2009 and 2012 growing seasons (8.91 and 9.40 t ha-1, respectively) and lower in 2010 growing season (5.93 t ha-1) than in 2011 (8.33 t ha-1). The forage nutritive values revealed that tested varieties have potentials in terms of protein (7.72-8.32%) and some macro (particularly Ca & K) and micro (especially Fe & Mn) mineral elements and energy contents (62.1-64.1% TDN, 1.51-1.57 Mcal kg-1ME) for pregnant cows that are in the second and third trimester stages. Levels of relative feed value (RFV) was high (110-121) and more than the minimum suggested RFV for mature beef cattle. But levels of P, Mg, Na, S, Cu and Zn were insufficient to meet the suggested amounts needed by a dry gestating cow. The growing seasons appeared to have significant (P < 0.05) effects on most of the measured parameters. The implications of these findings on uses of triticale forage in ruminant nutrition and the need for more studies are discussed.
This work is licensed under a
Creative Commons Attribution 4.0 License
.
Journal Metrics
The data was calculated based on Google Scholar Citations.
h-index (August 2022): 67
i10-index (August 2022): 839
h5-index (August 2022): 20
h5-median (August 2022): 28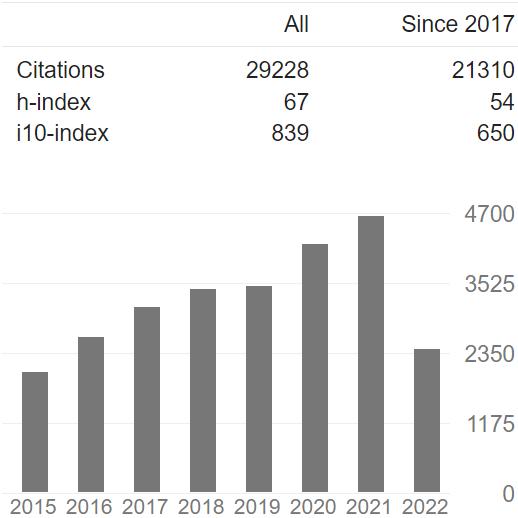 Journal of Agricultural Science is listed in NLM Catalog PubMed:

Contact
Anne BrownEditorial Assistant