Preliminary Studies of Insect Diversity and Abundance on Twelve Accessions of Tomato, Solanum lycopersicon L. Grown in a Coastal Savannah Agro Ecological Zone
E. S. K. Ofori

S. Yeboah

J. Nunoo

E. Quartey

W. Torgby-Tetteh

E. Gasu

E. Ewusie
Abstract
The relative abundance and diversity of insect species were studied for three months, between the months of June and August 2013 on twelve different accessions of tomato (Solanum lycopersicon L.) at the Ghana Atomic Energy Commission's Biotechnology and Nuclear Agriculture Research Institute (BNARI) farm. The main objectives of the study were to determine the insect diversity and the relative abundance of the insect species on twelve tomato accessions. The field was divided into four replicates each containing twelve different accessions of tomato coded V1, through to V12. In general, there was lower abundance of insect species across tomato accessions. The study revealed higher abundance of Bemisia tabaci (Gennadius) (Hemiptera, Aleyroidae) on accession V11 followed by V1 with V6 having the least number. Bemisia tabaci accounted for 95.5% of the insect counts. Low diversity of insect species was observed across the field of study. B. tabaci, Omocestus viridulus, (Linnaeus) (Orthoptera, Acrididae) and Psylla mali (Schmidb) (Hemiptera, Psyllidae) were observed to occur on all the accessions. Accessions V6 and V11 have the highest diversity of insects while accession V3 has the least diversity. The other major insect pests such as Aphis craccivora (Koch) (Hemiptera, Aphididae), Phenacoccus sp., Podagrica sp. and Zonocerus variegatus (Linnaeus) (Orthoptera, Pyrgomorphidae) recorded very low percentages. The highest record of insect pests was recorded at the fruiting stage of the plant's development. Fourteen different insect species were recorded giving an indication of the species diversity of the farm.
This work is licensed under a
Creative Commons Attribution 4.0 License
.
Journal Metrics
The data was calculated based on Google Scholar Citations.
h-index (August 2022): 67
i10-index (August 2022): 839
h5-index (August 2022): 20
h5-median (August 2022): 28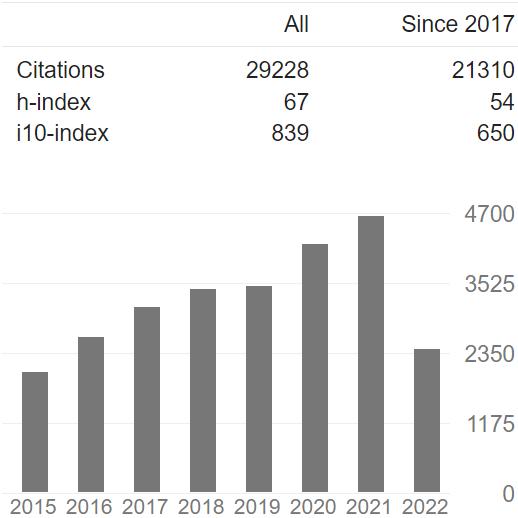 Contact
Anne BrownEditorial Assistant