Cassava Pests and Diseases' Prevalence and Performance as Revealed by Adaptive Trial Sites in North Western Agro-Ecological Zone of Uganda
A. Abaca

M. Kiryowa

E. Awori

A. Andema

F. Dradiku

A. Moja

J. Mukalazi
Abstract
Cassava adaptive trial was planted in ten sub counties across West Nile Agro-ecological Zone (WNAEZ) with six cassava varieties to test their performance and reactions to major pests and diseases present in the Zone. Th six cassava varieties comprised of improved (TME 14 and 204, NASE 13 and 14 and Akena – TMS I92/00067) and a local (Abiria) were selected based on their availability and preference in the region. The experiment was planted in RCBD design with three replicates. The experiment was planted in ten locations with the plot size was 6x6 metres. Results showed Cassava green mite (CGM), Cassava mosaic disease (CMD) and cassava bacterial blight (CBB) as major pest and diseases across all sites. Cassava Anthracnose (CA) and Cassava mealy bug (CM) were not present in the study sites. Cassava brown streak disease (CBSD) foliar symptoms was observed in three locations of Dranya s/c, Gimara s/c and Nyaravuru s/c on the three varieties of TME 204, TMS-I92/00067 and TME 14, whereas CBSD root necrosis was seen across all sites on TME 204, TMS-I92/00067, NASE 13, TME 14 and the Local except on NASE 14. In terms of yields, results showed that it was highest in TMS-I92/00067 (53.0 t/ha), TME 204 (46.0 t/ha), NASE 14 (39.4 t/ha), TME 14 (34.6 t/ha), NASE 13 (33.4 t/ha) and the local (22.7 t/ha) in that order. Farmers' ranking of the studied cassava varieties in order of preference was in the order of NASE 14, TME 204, TMS-I92/00067, TME 14, NASE 13 and the Local. In conclusion, absence of both foliar and root symptoms on NASE 14 across all sites indicated that this variety is still tolerant to CBSD and can still be multiplied for production in West Nile Agro-ecological Zone.
This work is licensed under a
Creative Commons Attribution 4.0 License
.
Journal Metrics
The data was calculated based on Google Scholar Citations.
h-index (August 2022): 67
i10-index (August 2022): 839
h5-index (August 2022): 20
h5-median (August 2022): 28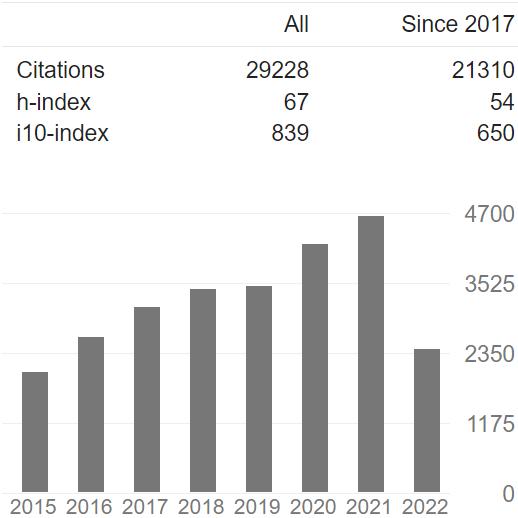 Contact
Anne BrownEditorial Assistant