Synergistic and Antagonistic Herbicide Interactions for Control of Volunteer Corn in Glyphosate/Glufosinate/2,4-D-Resistant Soybean
Emily Duenk

Nader Soltani

Robert T. Miller

David C. Hooker

Darren E. Robinson

Peter H. Sikkema
Abstract
Weed interference from glyphosate/glufosinate-resistant (GGR) volunteer corn can reduce soybean yield and quality. The recent release of glyphosate/glufosinate/2,4-D choline (GG2)-resistant soybean will allow for expanded POST herbicide mixture options for broad-spectrum weed control. Herbicide antagonism between ACCase-inhibiting graminicides and synthetic auxin herbicides has been confirmed for various grass weed species, including volunteer corn. Field experiments (total of 4) were carried out in 2021 and 2022 in southwestern Ontario to assess volunteer corn control with combinations of glufosinate, 2,4-D choline, or dicamba plus clethodim or quizalofop-p-ethyl applied POST to GG2-resistant soybean. Quizalofop-p-ethyl and quizalofop-p-ethyl + glufosinate controlled GGR volunteer corn 95 and 98%, respectively, 6 weeks after application (WAA); adding 2,4-D choline or dicamba to quizalofop-p-ethyl reduced control to ≤ 15%. Clethodim controlled GGR volunteer corn 81%, and the addition of glufosinate increased control to 97%; the co-application of 2,4-D choline or dicamba with clethodim reduced GGR volunteer corn control to 58 and 45%, respectively at 6 WAA. ACCase-inhibiting herbicides co-applied with glufosinate resulted in a synergistic improvement in GGR volunteer corn control while co-applications with synthetic auxin herbicides resulted in an antagonistic decrease in GGR volunteer corn control. Greater antagonism occurred when the synthetic auxin herbicides were co-applied with quizalofop-p-ethyl than clethodim. All mixtures of quizalofop-p-ethyl or clethodim with 2,4-D or dicamba resulted in unacceptable control of GGR volunteer corn.
This work is licensed under a
Creative Commons Attribution 4.0 License
.
Journal Metrics
The data was calculated based on Google Scholar Citations.
h-index (August 2022): 67
i10-index (August 2022): 839
h5-index (August 2022): 20
h5-median (August 2022): 28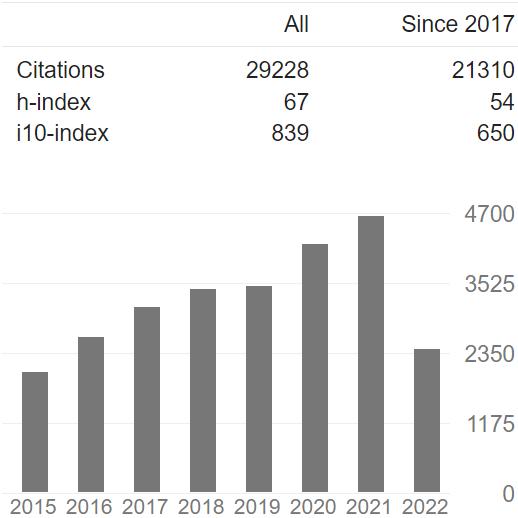 Contact
Anne BrownEditorial Assistant