Advances in Murrah Buffalo A2 Milk Production Technologies and Dairy Farming in West U.P. State of India
Om Singh

A. K. S. Tomar

Ayushi Singh
Abstract
The opening balance of Murrah buffaloes as on 01.04.2011 was 223 heads (62 males and 161 females). Additions in the herd were due to birth of 23 female and 31 male calves (54 heads). The closing balance of the buffalo herd as on 31.03.2011 was 150 buffalo heads (118 females and 32 males). The overall mortality was 6.07%. The overall female and male group mortality were 3.38% and 15.87%, respectively. A total of deaths were recorded in buffalo herd during the current year (10 males and 5 females). The overall conception rate was 50.00%. The figures in heifer and adult groups were 43.24% and 53.84%, respectively. The overall calving abnormalities were 18.64%, which included 1.69% abortions, 1.69% unseen abortions, 1.69% dystokia, 5.08% retention of placenta, 1.69% prolapse and 6.77% premature births and still births. The least squares' means (LSM) for age at first calving, service period, dry period and calving interval were 45.61±3.22 months, 152.91±20.66 days, 207.38±22.22 days and 460.89±17.90 days, respectively. The least squares' means (LSM) for overall live body weights at birth, 3, 6, 12, 18 and 24 months of age were 32.75±0.63, 63.40±1.95, 123.73±3.41, 226.53±7.84, 308.13±7.21 and 377.90±6.53 kg, respectively. The weight at first calving during the current year was 498.44±16.72 kg. Means for overall wet and herd averages were 5.82 and 3.39 kg, respectively. On an average, 57.44% of the total adult females were in the milk during this period. The LSM's for total lactation milk yield, average lactation length, average 305 days yield and peak yield were 2208.41170.08 kg, 308.75107.72 days, 2276.82182.85 kg and 11.54±0.37 kg, respectively. The Fat, SNF and Total Solids were 8.08, 9.67 and 17.76 %, respectively.
This work is licensed under a
Creative Commons Attribution 4.0 License
.
Journal Metrics
The data was calculated based on Google Scholar Citations.
h-index (August 2022): 67
i10-index (August 2022): 839
h5-index (August 2022): 20
h5-median (August 2022): 28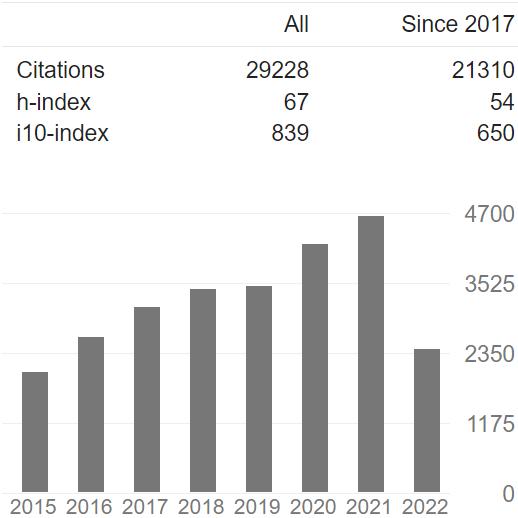 Journal of Agricultural Science is listed in NLM Catalog PubMed:

Contact
Anne BrownEditorial Assistant