Energy-Qualitative and Sustainable Impacts on Differents Soy Grain Drying Technologies
Paulo Carteri Coradi

Paulo Vinícius Silva Daí

Marília Boff de Oliveira

Letícia de Oliveira Carneiro

Jonatas Ibagé Steinhaus

Guilherme Abreu Coelho

Amanda Müller

Lanes Beatriz Acosta Jaques

Sabrina Dalla Corte Bellochio

Éverton Lutz

Vanessa Maldaner

Marcela Trojahn Nunes

Claudir Lari Padia

Arthur Pozzobon Dutra

Newiton da Silva Timm
Abstract
The objective of this current paper is to evaluate, in real production scale, the management of soybean batches in the storage unit of harvested grains that are submitted to drying processes with different technologies, such an evaluation can contribute to minimizing energy and qualitative losses, and to ensuring the grain quality and sustainability of the postharvest system. The experiment was realized in full-scale production and the treatments utilized were lots moist soybean crop (SUL), RR dry soybean (SSLRR), RR2 dry soybean (SSLRR2), dried soybean in continuous dryer (SSS1) (11.0%), dried soybean silo-dryer (SSS2) (12.5%), dried soybean in silo aerator (SSS3) (14.0%). Energy losses and grain quality as a function of drying management ranged from 2.5 to 16.4% in energy, from 0.23 to 3.26% in crude protein and 0.15 to 3.05% in oil—the maximum yield of wet soybeans harvested from the crop (SUL) at 17% (w.b.). Considering the annual Brazilian soybean production, energy losses reach up to 162,282.50 m³ of firewood, approximately 2,116,963,470 kg of crude protein and 810,616,800 liters of crude oil. This would ensure lower losses and higher grain quality, including better yield of protein and crude oil, specifically reducing energy impacts by increasing the efficiency of the drying system. The current study concluded that the SSS1 drying system reduces energy-environmental impacts by 80.23%, reduces crude protein losses by 94.73%, and crude oil by 95.08%.
This work is licensed under a
Creative Commons Attribution 4.0 License
.
Journal Metrics
The data was calculated based on Google Scholar Citations.
h-index (August 2022): 67
i10-index (August 2022): 839
h5-index (August 2022): 20
h5-median (August 2022): 28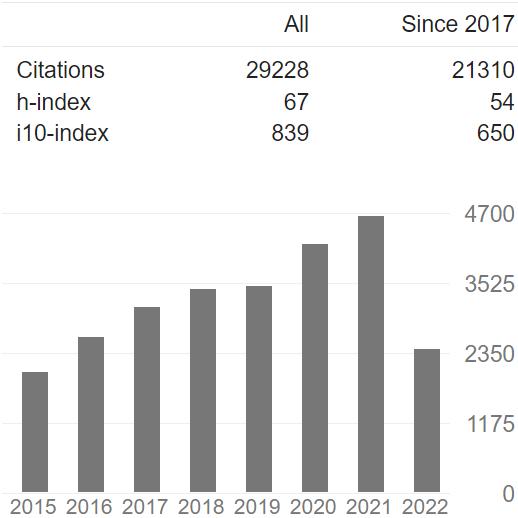 Contact
Anne BrownEditorial Assistant