Use of Amazon Fruits Barks as Source of Nutrients
I. F. Montero

S. A. M. Saravia

R. A. Santos

J. A. F. Marcia

S. M. Silva

E. A. Chagas
Abstract
The barks of fruits are usually discarded as organic waste; a valuable source of nutrients is obtained are used as a starting source in the preparation of functional foods. In this work, the physicochemical properties (pH, titrable acidity and soluble solids), mineral and bromatological analysis of nine Amazonian fruits were studied: abiu, acerola, araçá, bacupari, biribá, camu-camu, fruta-do-conde, araçá and taperebá. The most acidic values stand out for the different fruits, with the exception of the abiu bark (pH = 4.7). As for its nutritional contribution, it was the araçá barks that presented the highest energy value of 276.29 Kcal 100 g-1. Among the macrominerals, the potassium concentration stands out, being the highest concentration for the graviola bark, 521.04 mg 100 g-1 followed by magnesium, where the concentration in the biribá was 64.21 mg 100 g-1. On the other hand, the husks are rich in micronutrients, highlighting the concentration of zinc in the bark of araçá, 12.23 mg 100 g-1 and manganese in the bark of abiu, 6.84 mg 100 g-1. The Pearson correlation coefficient presented a highly significant correlation for Fe-Al (0.96), P-Fe (0.94) and Fe-Zn (0.89). O bligpot of principal components (PCA) explains 56% of the cases, being the minerals Mg, Na, Co, K, S and Ca highly associated for the graviola and bacuparí.
This work is licensed under a
Creative Commons Attribution 4.0 License
.
Journal Metrics
The data was calculated based on Google Scholar Citations.
h-index (August 2022): 67
i10-index (August 2022): 839
h5-index (August 2022): 20
h5-median (August 2022): 28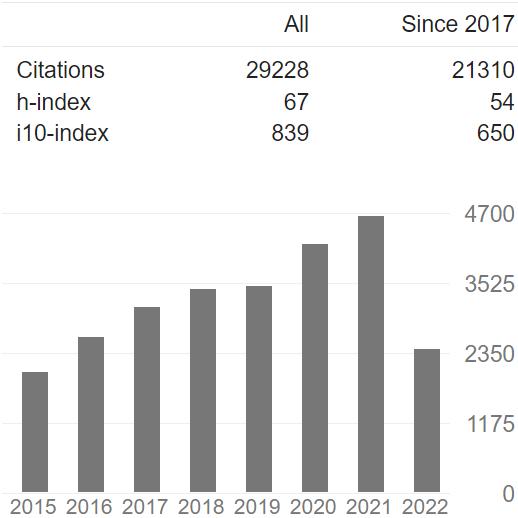 Contact
Anne BrownEditorial Assistant