Nitrogen Fertilization on a Soybean Crop Grown on Black Oat and Forage Pea Straw in a Clayey Latosol in Western Paraná
Lucas da Silveira

Deonir Secco

Luiz Antônio Zanão Júnior

Luciene Kazue Tokura

Reginaldo Ferreira Santos

Bruna de Villa

Pablo Chang

Claudia Borgmann

Simone Andreia Roehrs

Fernando Muller

Caroline Beal Montiel
Abstract
The beneficial effects to the soil, when using cover crops, are numerous, such as nutrient cycling, nitrogen fixation, breaking of the cycle of pests and diseases, soil structuring and addition of dry matter. This makes the subsequent crop better able to express its productive potential. The nitrogen is a key element for any plant, especially in the early stages of crop development. In this way, the purpose of this study work was to evaluate the effect of nitrogen doses on the grain yield of soybeans grown on black oat and forage pea straw in a clayey Latosol in the western region of Paraná, Brazil. The experiment was conducted in the experimental area of the Agronomic Institute of Paraná (IAPAR), in the regional hub of Santa Tereza do Oeste. The local soil is classified as a typical Dystrophic Red Latosol. The experimental design consisted of a randomized complete block design with five replicates. The treatments consisted of nitrogen doses of 0, 25, 50, 75 and 100 kg ha-1 applied in a broadcasting cover, without incorporation, using urea as a nitrogen source, at 20 days after emergence when the plants were in stage V3. The soil physical attributes were bulk density, total porosity, microporosity, and macroporosity. In the soybean crop, the production components evaluated were: plant height, 100-grain weight, and grain yield of grains. The data were submitted to analysis of variance, in which, for the quantitative factors, a regression analysis was performed and, for the qualitative characteristics, the Tukey test (p < 0.05) was performed. The mineral addition of nitrogen did not lead to an increase in grain yield of the cultivated soybean on the species of oat or forage pea cover. Thus, it can be stated that in well-structured clayey Latosols with high fertility, the nitrogen present in the soil organic matter and what was fixed symbiotically is sufficient to supply the nitrogen demand for the soybean crop.
This work is licensed under a
Creative Commons Attribution 4.0 License
.
Journal Metrics
The data was calculated based on Google Scholar Citations.
h-index (August 2022): 67
i10-index (August 2022): 839
h5-index (August 2022): 20
h5-median (August 2022): 28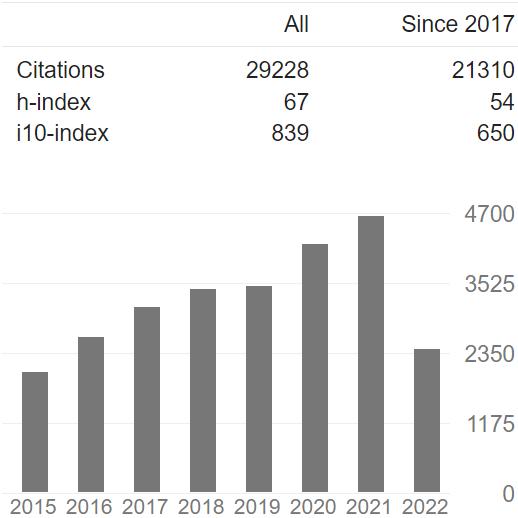 Contact
Anne BrownEditorial Assistant