Structuring of a Haplortox by Soil Cover Species
Luciene Kazue Tokura

Deonir Secco

Luiz Antônio Zanão Júnior

Jair Antonio Cruz Siqueira

Samuel Nelson Melegari de Souza

Reinaldo Aparecido Baricatti

Alessandra Mayumi Tokura Alovisi

Andersson Barison

Bruna de Villa

Maurício Antônio Pilatti

Katlin Suellen Rech

Romeu Reginatto
Abstract
The objective of this work was to evaluate the effect of soil cover species and management systems in improving the physical characteristics of a Haplortox and its effects on grain yield and soybean oil content. The experimental area, consisted of 15 treatments in a completely randomized experimental design. Each plot had size of 20 × 25 m. The treatments consisted of: traditional no-tillage system (control), no-tillage system with application of gypsum, no-tillage with scarification and 12 treatments with cover species called soil structure reclaimers. Soil samples were collected in the layers of 0-0.10; 0.10-0.20 and 0.20-0.30 m, with four replicates. The physical attributes evaluated were bulk density, total porosity, microporosity, macroporosity and saturated hydraulic conductivity in the periods of 2014, 2015 and 2016. In the soybean crop the grain yield, oil content, weight of 100 grains, average height of plants and number of plants/m were evaluated in each treatment with four replications. The oil content was performed by the low-field nuclear magnetic resonance method. The averages of the treatments were compared by the Tukey test at 5% of significance. The results showed that five months after soil scarification did not affect bulk density. Eleven months after gypsum application discrete improvements in density, total porosity, microporosity and soil hydraulic conductivity occurred in the 0-0.10 and 0.10-0.20 m layers. It was also concluded that grain yield, oil content, weight of 100 grains and number of plants per meter were not influenced by the soil cover species and soil management systems.
This work is licensed under a
Creative Commons Attribution 4.0 License
.
Journal Metrics
The data was calculated based on Google Scholar Citations.
h-index (August 2022): 67
i10-index (August 2022): 839
h5-index (August 2022): 20
h5-median (August 2022): 28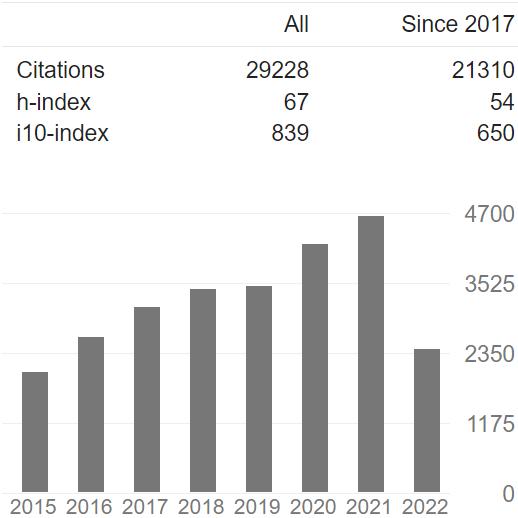 Journal of Agricultural Science is listed in NLM Catalog PubMed:

Contact
Anne BrownEditorial Assistant